If you have been suffering from mental ill-health, such as anxiety or depression, or you are facing difficult changes or decisions in your life that feel overwhelming, you might be considering talking to an online psychotherapist or counsellor.
An online counsellor, psychologist or psychotherapist can help you to discuss and understand any of your presenting emotional issues so that you can live more fully in the present.
Benefits of online counselling
Rather than limiting yourself to only therapists within a certain location, there are hundreds of therapists across the UK and globally who you can connect with via Skype and Zoom for online depression counselling, online relationship counselling, online counselling for personal problems and more.
This means that, if there are no therapists near enough for you to meet in person, you can still access professional help online. The opportunity to talk to a therapist online also means that you may be better able to find a therapist who is specialised in the specific approach you would like or the issue you would like to talk about, instead of being limited to the counsellors and psychologists in your area.
Although many are sceptical about online counselling, there have been studies published that advocate its benefits, including patients reporting 'high levels of satisfaction' in a review by The World Journal of Psychiatry and a study published in the Canadian Medical Association Journal, which found that online CBT (cognitive behavioural therapy) effectively reduced symptoms of depression and other mental health issues amongst participants.
Convenience and flexibility
Meeting online means that there is zero travel time to and from therapy and sessions can be attended in circumstances that otherwise might not be possible. Whether you travel often for work or suffer from illnesses that make it difficult to leave the house, you can see your therapist provided you have a private, quiet space and an internet connection.
If you live in a small town or neighbourhood, you may be worried that you will run into your therapist outside of your therapy session, or that you may be connected to your therapist through other acquaintances. In this case, scheduling an online counselling session with a therapist who lives in a different location may give you more peace of mind.
Dual location relationship counselling
Online relationship counselling might be an option for you and your partner or other family members when you are living in different locations, either temporarily or permanently. In this way, you can engage with group or couple relationship counselling online together, which would not be possible otherwise.
Disadvantages of online counselling:
Subtle cues such as body language, facial expressions and the tone of voice that someone uses can help us to understand the meaning of what someone says in any situation. These elements of communication are lost with words alone. Therefore some argue that online counselling by webcam might be more helpful for both therapists and clients to understand each other.
Non-verbal communication can also help therapists to listen more deeply to their patients, helping them to gain further insight into how their patients are feeling and in turn to understand how best to work with them. However, there are ample research studies that find online counselling is as effective as in-person counselling.
Depending on the online counselling service used, confidentiality could be jeopardised by security breaches. Most applications, such as Skype, strive to protect confidentiality but it is always important to update the app or software you use for webcam therapy to the latest version in order to prevent the risk of security issues.
Poor internet connections can disrupt therapy sessions and a cut in connection or power at a crucial time can be very distressing. It is always worth checking that your connection is of the right standard before you embark on counselling online and ensuring that the software you must use (for example Skype) works on your device. It might be useful for you and your therapist to have a back-up plan in place in cases where technology affects your session.
Some online counselling services may not be transparent about the qualifications or training of their members. It is important that you choose a therapist who you believe has suitable experience and holds the same level of professional training qualification as a face-to-face therapist, counsellor or psychologist.
Online therapists at Harley Therapy are vetted and their memberships are checked before they can join the service so that users can be assured that any online therapist they choose is licensed to practice in the UK.
Online counselling, otherwise known as online therapy, e-counselling, e-therapy, skype therapy or cyber-counselling, has become increasingly popular in the last decade. There were almost 9x more webcam and instant messenger therapy appointments made with the NHS between 2012 and 2016, a drastic increase from 6,000 to 49,000 online counselling sessions.
During the Covid-19 pandemic, almost all UK counselling sessions took place online. Searches for "online counseling UK" and other keywords continued to remain higher than previously after restrictions were lifted on meeting face-to-face for counselling, hinting that online therapy is here to stay.
Much like traditional counselling, e counselling or online therapy involves talking to a licensed therapist or counsellor who provides assistance in managing psychological issues, such as depression, anxiety and relationship problems, more effectively. While this can occur by email, online chat or messaging, the most similar format to traditional therapy is to talk to a therapist in real-time by webcam.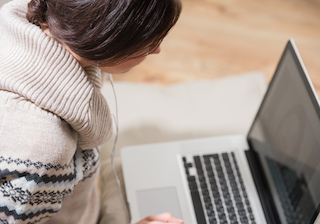 If you don't feel satisfied with your first session for any reason, we'll offer you a session with an alternative therapist at our expense.
No problem! Just sign up below and one of our team will be in touch shortly to help you find a therapist online:
Many teenagers, adults and couples find talking to a therapist online the best option for them in terms of availability, convenience and affordability.
Online talking therapy, including online psychotherapy and counselling, is increasingly popular in the UK. Lots of psychotherapists, psychologists and counsellors now offer therapy by online video call and have undertaken courses specifically related to providing therapy online. A recent review of studies published by the World Journal of Psychiatry found that patients receiving online counselling by video chat reported 'high levels of satisfaction'.
Many of the factors involved in online therapy via webcam are the same as in-person counselling. For example, arriving on time and being honest with yourself and with your therapist. However, there are other provisions that you will need to make when engaging in therapy online:
A good internet connection
It is frustrating and disappointing to set up a video call and pay for an online counselling session only to find that your connection does not work. Breaks in sound and issues with video quality will affect your experience of therapy negatively. This may interrupt you from being able to make a connection with your therapist both practically and emotionally.
Confidentiality for counselling requires that both you and your therapist connect from a quiet place that is free from distractions and respects your privacy. This makes crowded public areas or family spaces out of the question. You may want to use headphones so that only you can hear what your therapist is saying.
Access to video conferencing services
You may need to download the software that your online counselling will take place on, such as Skype, Zoom, Facetime and Whatsapp.
If you'd like to start online counselling, the UK's leading booking platform for counselling and psychotherapy makes it simple to find and book a qualified therapist at the time and cost that suits you, to meet online as soon as tomorrow. See our recommended therapists below, or start your own search here to begin your journey to wellbeing.
A qualified, professional online therapist will work with you to examine your thoughts and behaviours and improve how you feel. You will build a relationship based on trust, giving you the confidence to share your feelings and emotions with them. Your counsellor will listen to all that you have to share with empathy and openness.
Experienced online psychologists, online therapists and online counsellors like those listed on the Harley Therapy platform can help you to manage your symptoms and find your own way forward.
Filter our qualified, professional and vetted online therapists by cost, location, availability and approach so you can find and book the best online psychotherapist or counsellor for you here. Whether you are looking for a therapist online UK based or elsewhere, we have 500 online therapists and counsellors who speak a variety of languages. Click below to start your journey today and find a therapist online:
References:
Huge surge in online mental health appointments attacked by specialists - March, 2017, The Independent